This is ASHTON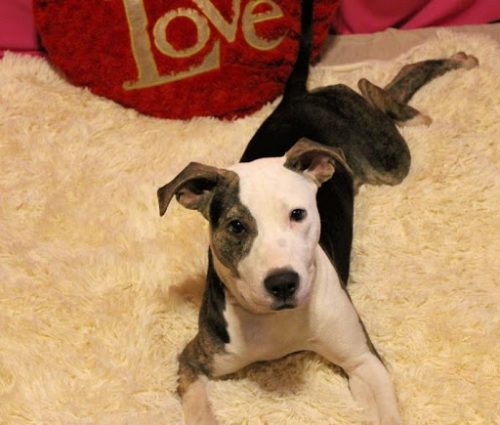 Ashton is a Pit mix who was found as a stray. His wonderful rescue helps transform many starved and emaciated dogs, but Ashton is their 1st ME baby. His transformation has been amazing to experience. Ashton was chained outside until they saved him and his chain caused a wound all the way around his neck. His sister had a much smaller wound on her throat, but his was severe. The rescue does have very graphic before pics, so if wanted, you may request seeing those IF you consider giving sweet Ashton his forever home.
Ashton cannot bark, so that may have been caused by this situation or associated with his ME. Otherwise, he is now a perfectly normal, happy, energetic, little puppy whose ME is easily managed with the current protocol. Ashton will play with any dog that pays him the least bit of attention, so he has that high puppy energy and is very active. Best part of Ashton's personality is he's very affectionate and well behaved in public.
Current age:

8 – 9 months old

● Current weight:

46

lbs

Dogs Current Status:

With foster

● Location:

Munford, TN
Rescues Name & Location:

Dog's 2nd Chance / Munford, TN

Contact info:

Linda Sutphin 901.485.3450 or

dogs2ndchance@gmail.com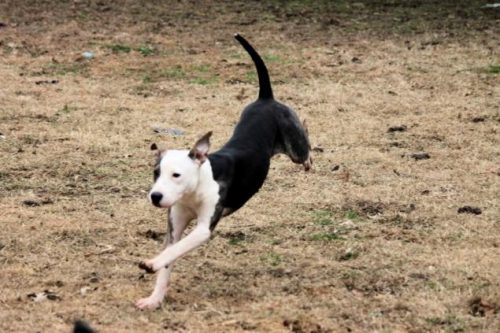 Timeframe needed to find a home: As soon as possible
Medical information (spay/neuter, chipped, other health conditions if any, etc):
Neutered

Micro chipped

Up-to-date on vaccinations and shots
Where and how did we get this dog:
Ashton is a Rescue/Foster found stray 10/2016
Where and how was ME diagnosed:
Animal hospital (give name if known): Northgate Animal Hospital in Memphis, TN
X-rays or barium swallow: Barium swallow
Meds currently taken:
Pepcid 10mg morning and night

Reglan morning and night
Food brands and consistency (meatballs, milkshake, pureed, etc):
Fed mixture of Ensure and wet food (Retriever brand)

Eats puree/milkshake consistency 

Fed how many times per day in what position and timeframe:
Currently fed every 1 – 1 ½ hrs
NOTE: He was so underweight when rescued that it's taken time for his stomach to
grow. We're confident his feeding schedule will be less frequent once his stomach can hold more.
Stands with front legs on counter or kitchen chair – small enough that the kitchen chair
keeps him vertical without putting much pressure on his hind legs

Hydration method and consistency (Knox Blox, SubQ, Thick It, etc):
Milkshake is watered down

Can drink water

MUST stay calm for 15-20 minutes after drinking
Exercise preferred (if any) and level (high, moderate, low): High energy and very active
Miscellaneous:
Walk's on leash but uses a harness

Friendly with EVERYONE – all ages

Does well with other dogs

Doesn't mind the cats – curious about them but otherwise fine

Housebroken – goes to the door when he needs to be let out

Crate trained
NOTES (any other pertinent information that will help you decide if you might be the safe, loving forever home):
"We think his ME comes from injury rather than genetics. His breed is not predisposed to ME, blood work shows no underlying causes or other diseases. He can't really bark either so that's probably part of the injury. He's otherwise a perfectly normal, happy, energetic little puppy. He will play with any dog that pays him the least bit of attention. He's very affectionate and well behaved in public."