This is BAILEY  (from IN)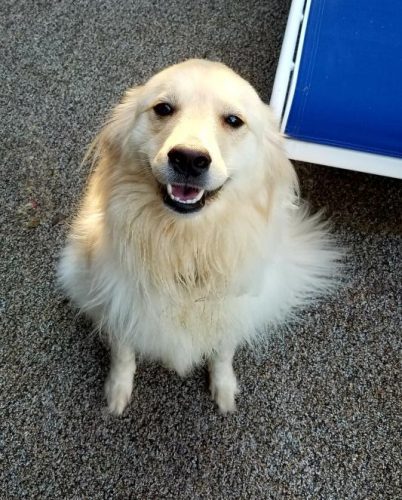 BAILEY: NEEDS A HOME NOW!!! This sweet, very easily managed girl needs to get out of the rescue and into a home. This was to be a stopping place to keep her stable and save her life which Great Babies Rescue with Terry Havens Holzheimer gratefully did without waiting. However, her rescue has so many with special needs and she must devote her time to each one, so Bailey really needs to get into her loving, forever home.
Bailey is wonderful with people, children, dogs any size, cats, etc so will make a GREAT addition to a family who might even have some of the listed. PLEASE contact Terry Havens Holzheimer, Debbie Wuerzberger or Jill Porter if you are interested and Terry will handle what is needed thru her rescue efforts. We are here to help expedite this for a very special ,loving girl.
Current age:

2 years old

● Current weight:

44 lbs

Dogs Current Status:

With rescue

● Location:

Paoli, Indiana
Rescue Name & Location:

Great Babies Rescue / Paoli, Indiana

Contact info:

Terry Havens Holzheimer / 812.653.1985 or

greatbabiesrescue@yahoo.com
Timeframe needed to find a home: Needs a forever home as soon as possible due to numbers of dogs in this special needs rescue where she is residing. Some of the dogs there are elderly and require more time from the rescue folks and it is best she doesn't get too accustomed to this setting making moving again more difficult on her.
Medical information (spay/neuter, chipped, other health conditions if any, etc):
Spayed

Up to date on all vaccinations

HW negative
Where and how did we get this dog:
I bought Bailey from a breeder on the south side of Indianapolis when she was 6 weeks old.
Where and how was ME diagnosed:
Animal hospital (give name if known): Academy Animal Hospital / Greenwood, IN (we have all the medical files which will go with her or may be seen prior if/as requested)
X-rays or barium swallow: X-rays
Meds currently taken: None
Food brands and consistency (meatballs, milkshake, pureed, etc):
Blue buffalo, puppy, chicken and brown rice dry food
Fed how many times per day in what position and timeframe:
Fed 4 times per day

Eats about 1 cup each feeding

Uses a Bailey chair

Sits about 30 minutes after each feeding

Likes to drink water right before and during her feedings

Water is poured into the bowl and refilled as needed

Before getting out of the chair, may gently massage throat in upward motion to check that food has gone down and to help relieve any trapped gas bubbles
Hydration method and consistency (Knox Blox, Thick It, SubQ, etc):
Normal water, during feedings and as needed (in the Bailey chair)

Sit for 10 minutes after a water-only
Items that will go to the new home:
Bailey chair

Collar

Leash

Food

Medical records, including a CD of x-rays and rabies vaccine tag

Toys

Antlers

Neck pillow
Miscellaneous:
House trained, but should be let out frequently

Does NOT do well with crates

Barking can cause regurg 

Will get into ANYTHING that's left out, so keep all foods and important papers, etc. out of her reach, especially if you miss a feeding  
NOTES (any other pertinent information that will help you decide if you might be the safe, loving forever home):
Bailey loves to run around outdoors and play with other dogs and children. She is a sweet, loving dog. She would love to have someone that can be there most of the day, so someone who is possibly retired with grand children, someone who works from the home, someone who can take her with them to their work, has a big fenced-in yard, other dogs, and who wants to take care of a sweet, playful baby, would be perfect.
Bailey is definitely a "baby proof" baby who loves to counter surf. She will look for food and though other household items might be there, she doesn't tear anything up…just wants more food.