Here is BITTY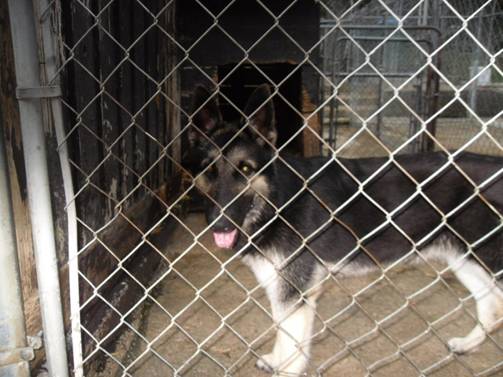 Bitty is a beautiful German Shepherd mix. She was too much for her first owner, so was rescued and resides with a home that is caring for her needs. She is very hyper and "mouthy" so will require a home where she can be not only managed for her ME, but with someone who can work with her personality. Bitty would LOVE to be the only dog, but Brenda is working with interaction to other dogs both large and small. She would do great in a home that allows her to be loved, exercised and thrive as the puppy she still is at this time.
Current age: 7-8 months old             ●          Current weight: 45 pounds
Dogs Current Status:Rescue                       ●          Location: Dora, AL 35062
Timeframe needed to find a home: As soon as possible. She cannot be "shipped" so will require transport to be worked out with Brenda.
Medical information (spay/neuter, chipped, other health conditions if any, etc):
        Outside of the ME, the sounds she makes and her diet she is healthy
        Current on shot's and d/w
Where and how did we get this dog:
Rescued because too much for previous owners
                         
Meds currently taken: Generic zantac given daily
Food brands and consistency (meatballs, milkshake, pureed, etc):
        Dry kibble soaked with water
        Baby cereal, canned dog food
        Vegetable or fruit or rice and chicken mixed with food
Fed how many times per day in what position and timeframe:
Fed 2 times a day
         Fed from about knee high and as long as not over fed does well
Hydration method and consistency (Knox Blox, SubQ, Thick It, etc):
Does fine with water unless she gets excited
Miscellaneous:
Slowly working on her attitude
●          Aggressive
        Very mouthy likes to bite – not good with small children, inexperienced or elderly
●         Hyper
●          Easy keeper
Smart little girl
Fine boned – doubt she gets much bigger
Crate trained
Starting basic obedience training
Starting to get used to other animals (large and small)
NOTES (any other pertinent information that will help you decide if you might be the safe, loving forever home)
"Would love to find this special baby her own forever, loving home. She likes to be the one and only. I will not ship her and Bitty must be spayed. She really needs a home of her own without all the commotion of the kennel I have."