This is BRODY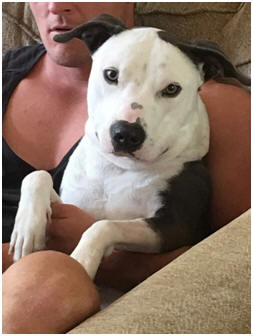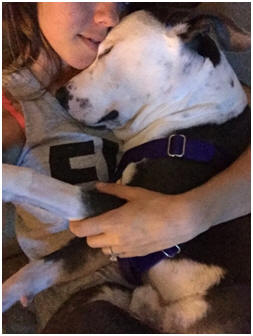 Brody is a Staffie/Terrier mix who had a really rough start to life until this wonderful rescue saved him from a shelter. Incredibly, after saving this handsome boy, finding a forever home is not what they have been doing YET. Brody has not only been bounced around to a few fosters and boarded at a vet facility, but has also had major surgery for suspected PRAA, but the outcome was not doing what was necessary AND no recommendation for what to do next.
Brody is currently in limbo with specific diagnosis not for his ME, but possible cause which might be vascular ring anomaly or an esophageal stricture. We are working hard with this wonderful rescue group who have spared no expense on this sweet, but have been taken advantage of by a few other DVMs to the extent that their cost so far is huge in trying to do everything possible for best quality of life.
We are hopeful they will be able to have a very experienced DVM review all the records then give specifics that will help Brody move forward. In the meantime, he is doing really well and is an active, happy, loving, sweet boy who sure could use the stability of at least a long term foster or his forever home. They have his feeding routine down for now, but have no fosters who will take care of him so asking for your help.
Current age: 2 years old                   ●          Current weight:  45 lbs
Dogs Current Status: With foster    ●          Location: San Juan Capistrano, CA
Fosters Name & Location: Doggie Bonez Inc Bully Rescue / San Juan Capistrano, CA
Contact info: Jackie Rivera 714.381.4344
Timeframe needed to find a home: As soon as possible
Medical information (spay/neuter, chipped, other health conditions if any, etc):
Where and how did we get this dog:
He was saved from a shelter
Where and how was ME diagnosed:
The rescue can provide all the extensive medical records by email IF you are truly interested in giving Brody his long term foster, or better yet, loving forever home
Meds currently taken: None they know about at this time
Food brands and consistency (meatballs, milkshake, pureed, etc):
Fed canned food that is watered down
Fed how many times per day in what position and timeframe:
Eats in a Bailey Chair
East 3-4 times per day
Stays in chair 30 minutes after eating
Gets soft treats like cream cheese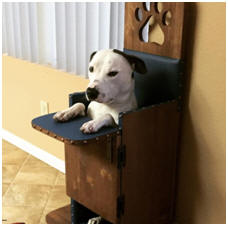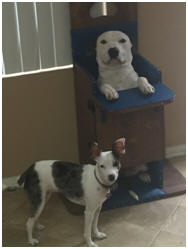 Exercise preferred (if any) and level (high, moderate, low): Moderate – likes top play
Miscellaneous:
Lived with 5 other dogs at his last foster
Gets along well with people
LOVES to play and have fun
NOTES (any other pertinent information that will help you decide if you might be the safe, loving forever home):
"We are looking for a foster or forever home that can provide time and energy for this little guy so he can get the proper surgery and move on with his life."