This is CHICA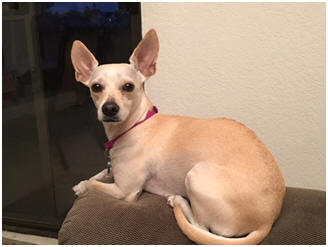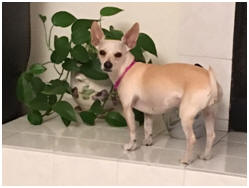 Chica is an adorable Chihuahua mix who needs to find her forever loving home. Chica is with her owner but, due to a divorce, she is working very long hours and Chica is left alone by herself. This schedule does not afford her time to be able to keep Chica so sadly, she needs another home.
Chica is very alert, loyal and protective and is actually her service dog (she does not have extreme need for this now) so has training beyond the norm. She also loves to snuggle and be hugged. Linal is able to fly with Chica anywhere in the US where American Airlines would is located, so this opens her door to be able to go most places in the US or at least within range.
Current age: 3 ½ years old                            ●          Current weight: 10 lbs
Dogs Current Status: With owner                 ●          Location: Torrance, CA
Owners Name & Location: Linal Miller / Torrance, CA
Contact info:  310.270.8380 or  l.harada@yahoo.com
Timeframe needed to find a home: ASAP
Medical information (spay/neuter, chipped, other health conditions if any, etc):
Where and how did we get this dog: Adopted from a friend of a friend who had a litter and wanted to find homes.
Where and how was ME diagnosed:
Animal hospital (give name if known): Family Pet Clinic in Redondo Beach, CA
X-rays or barium swallow: X-rays
Meds currently taken: None
Food brands and consistency (meatballs, milkshake, pureed, etc):
 Eats Royal Canin Gastro Intestinal High Energy canned food
Fed with a spoon then given a capful of apple cider vinegar
Fed how many times per day in what position and timeframe:
Sits next to owner in her Bailey Chair
Remains seated for 30 minutes afterwards
Fed 2 times per day
Hydration method and consistency (Knox Blox, SubQ, Thick It, etc): Water dish
Items that will go to the new home:
Custom Bailey chair
Travel carrier
Bed
Blankets
Toys
Collar
Leash
Shampoo
Food
Exercise preferred (if any) and level (high, moderate, low): very little exercise
Miscellaneous:
Tolerates children
A little afraid of other dogs
Does not like cats
Experienced with a leash
Can heal as a result of training class
Can sit and stay
Housebroken
Crate trained
Sleeps well at night in her bed
NOTES (any other pertinent information that will help you decide if you might be the safe, loving forever home):
 "Loves to burrow and snuggle. Very loyal and protective. Very alert. Loves warmth and heat. Tolerates baths we