This is CLOVER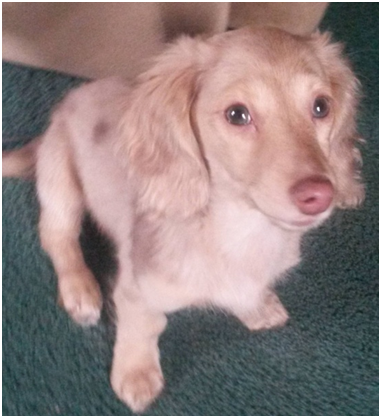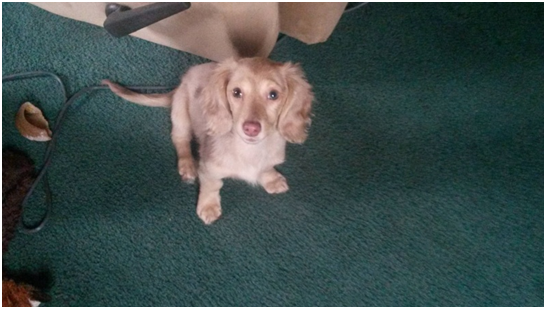 Clover is the most adorable sweet, female, mini, cream dapple colored Dachshund. She is 3 1/2 months old, is very active, loves other dogs and cats and loves running and playing outdoors. When you see all her pictures, you will agree this baby girl is just waiting for the right home.
●          Current age:  3 ½ months old (9/25/13)        ●          Current weight: 5 pounds
●          Dogs Current Status: Owned                        ●          Location: Baltimore, MD
●          Owners Name & Location: Cindy Beckelhimer / Baltimore,MD
●          Contact info: kbecksgirl23@yahoo.com cell 443.462.0103
Timeframe needed to find a home: Would like within the next month
Medical information (spay/neuter, chipped, other health conditions if any, etc):
●          Not yet spayed, so will need to be done
●          Has ME
●          Not Microchipped
Where and how did we get this dog:
Owned puppy from a litter that she had and kept her; has had since birth
Where and how was her ME diagnosed:
Animal hospital (give name if known): Main Street Veterinary Hospital, 11617 Reisterstown Rd.
Reisterstown, MD 21136 410.526.7500 DVM: Dr. Monugue
X-rays or barium swallow: Barium Swallow and X rays  (have the CD)
Meds currently taken: none
Food brands and consistency (meatballs, milkshake, pureed, etc):
●          Pureed
Fed how many times per day in what position and timeframe:
●          3 – 4 times per day
●          Fed in upright position then held 20-25 min
Hydration method and consistency (Knox Blox, SubQ, Thick It, etc):
●          Drinks water maybe once a day
●          Put a lot of water in her food
Items that will go with her:
●          Bed                                                      ●          Blanket
●          Toys                                                    ●          All her Health Records
Exercise preferred (if any) and level (high, moderate, low):
●          Loves to run outside and play and is very active
Miscellaneous:
●          Housebroken: 90% potty trained (uses pee pee pads) and will also potty outside easily
●          Leash trained: No and has never tried using one
●          Crate trained: Yes and is in a crate at night
●          Pro Collar (or elevation) when not eating and especially at night: Never used one
NOTES (any other pertinent information that will help you decide if you might be safe, loving her forever home):
"Clover is an awesome puppy, super sweet, loves to be loved and loves other animals. She is always so happy considering her condition and Loves Life!"