This is DJ (DAKOTA JR)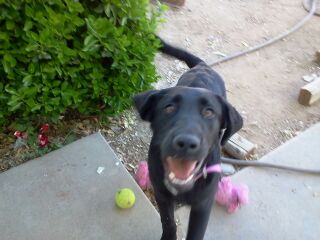 DJ is a Black Lab puppy who was rescued from the City of Hesperia Animal Shelter in CA. She was spayed prior to going to her new home. She began "spitting up" but the new owners thought it was from just having surgery. They ended up in emergency where DJ was given antibiotics, but a week later when she was not better, they got diagnosis of ME at their DVM.
This poor baby girl cannot go back to the shelter, but the owners do NOT have the resources, time or income to manage this puppy now that they realize what ME entails. They work long hours and are away from home, do not have income to cover more extensive medical needs so need to find the right home for this sweet girl.
Current age: 10 months old             ●          Current weight:  47 lbs
Dogs Current Status: Owned ●          Location: Hesperia, CA
Owners Name & Location: Norma Azakas / Hesperia, CA
Contact info: 760.963.3088 or calicobst@aol.com
Timeframe for finding a home: As soon as possible
Medical information (spay/neuter, chipped, other health conditions if any, etc):
         Spayed
         Micro chipped
         Healthy except for the ME
Where and how did we get this dog:
City of Hesperia Animal Shelter and have had her since the end of January, 2014; told she was 5 months old at that time
Where and how was her ME diagnosed:
Animal hospital (give name if known): Hesperia Animal Hospital
X-rays or barium swallow: Both
Food brands and consistency (meatballs, milkshake, pureed, etc):
Pedigree canned food and pouches (pate)
Fed how many times per day in what position and timeframe:
         fed twice a day (morning and evening)
Occasional snack pouch – either ½ the bigger can with a pouch of food or a whole small can with the pouch twice a day
Food and water currently elevated on a step stool
Try to have her sit or put front paws on lap or couch for at least 15 minutes after
Hydration method and consistency (Knox Blox, SubQ, Thick It, etc):
Water elevated as much as possible
Meds currently taking: None
Items that will go with her:
         Collar
         Play tug ropes
         Hard chew toys
         Pink stuffed animal
         Elevated feeding/water station with step stool
         Bed
         Health records
Miscellaneous:
Exercises in the front yard all day
Loves to play with children
Fascinated with cats, but hasn't been near one to see reaction
Does fine on a leash
Housebroken
Not crate trained
Doesn't need to wear a pro collar and prefers to sleep in a bedroom with family
NOTES (any other pertinent information that will help you decide if you might be her safe, loving, forever home):
"She is a very lovable dog, normal in every way except the ME. DJ is a very good watch dog and is protective of her family."