This is IROH,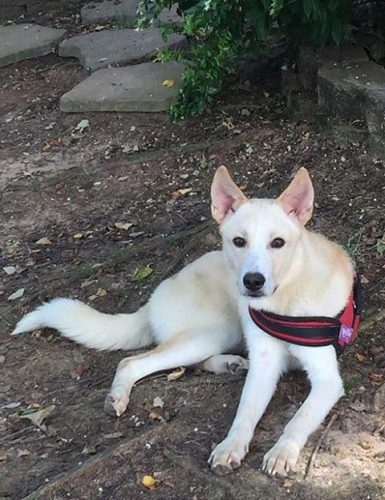 Iroh is a handsome, very well behaved and very well managed Husky mix. Do not be disturbed at the patch of hair loss and large scar on his hip. He had an injury prior to these wonderful fosters saving him. The hair is growing back, he is putting weight on, and there is no physical issue with his movement and use. Iroh really wants to be in his forever, loving home. He isn't destructive, doesn't get into things, and is very calm and friendly so will fit nicely into the right home. Read more great personal info from the fosters in the last section of his bio on here. Iroh is a GREAT dog!!!!"
Current age:

About two years old

Current weight:

38.6 lbs

Dogs Current Status:

With foster / Conway, Arkansas

Location:

Conway, Arkansas

Fosters Name & Location:

Robin Stauffer/Kerry Rainwater (found by Kerry's neighbor)

Contact info:

Robin 501.730.6725 / Robin Stauffer on FB /

rstauffer@conwaycorp.net
Timeframe needed to find a home: ASAP
Medical information (spay/neuter, chipped, other health conditions if any, etc):
Up-to-date on his vaccinations

Heartworm negative

Wormed (he had every kind of worms except heartworms)

Has not been neutered due to ME; can be performed by an ME experienced vet 
Where and how did we get this dog: Was found in Searcy, Arkansas abandoned and very emaciated. Kerry and I both foster and volunteer a lot with ArkanPaws Animal Rescue, but Iroh is not part of their program. We are just trying to find him a home on our own. 
Where and how ME was diagnosed:
Animal hospital (give name if known): Dr Jordan, Searcy Animal Clinic in Searcy, AR; was seen by two different vet clinics 
X-rays or barium study: X-Rays
Meds currently taken: 
Pyrudistigm 2X daily

Ranitidne (generic Zantac)

Starting on Metaclopromide and a probiotic this weekend
Food brands and consistency (meatballs, milkshake, pureed, etc):
Gets milkshake consistency

Fed using Diamond Naturals dry kibble mixed with water

Going to add canned puppy food soon (someone is donating Merrick puppy food)

Gets egg in his food every other day

Gets Salmon Oil mixed in daily

Given four goat milk and water gelatin squares w each meal
Fed how many times per day in what position and timeframe:
Eats 3 times a day

Uses a Bailey Chair

Stays in chair 30 minutes after eating or drinking
Hydration method and consistency (Knox Blox, SubQ, Thick It, etc): 
Water added to food

Goat Milk/Water Gelatin Squares

Sometimes plain water given sitting in chair; stays 30 minutes afterwards 
Items that will go to the new home: 
Bailey Chair

Remaining meds

Health records

Harness
Exercise preferred (if any) and level (high, moderate, low): 
Very mellow in house and takes occasional very short walks when it is not too hot; really doesn't require any exercise at all right now
Miscellaneous:  
Great with their dogs and cats

Hasn't been around kids, but I suspect he would love them

Can't play too rough or run — can make him regurgitate

Loves squeaky toys and chew toys 

Excellent on leash and in car

Stays with foster off-leash in front yard (no fence), knows a few commands

Housebroken

Crate trained

Wears a harness and a D-ring on it is attached to the tether in his Bailey Chair so he can't jump out 
Additional notes (any other pertinent information that will help you decide if you might be safe, loving forever home):  
"He is VERY well behaved in the house. Doesn't get into anything, is not destructive, does not bark (I suspect he can't with his condition). He's very friendly and calm. He has a large scar on his hip from a previous injury, but the fur is growing back — it doesn't bother him at all, and no idea what happened to him. He weighed about 30 lbs when I got him 11 days ago, and is now up to 36.8 lbs. His fur is coming in softer and filling over his scar. Doesn't get into mischief and very mellow and sweet.
Iroh really will be a great dog for someone w the time to care for him properly. Other than the regurgitation, at first, he's been very easy. He doesn't spit up very often anymore, and that's usually if he's been playing for a few minutes. I've got him taught to stay out of the water and food dishes now too, so I don't have to keep them put up anymore! That was a huge issue w me having two dogs and two cats of my own."
Created: June 11, 2019