This is LOKI (CA),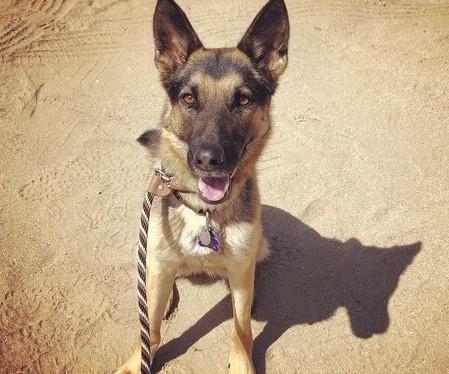 Loki is a beautiful German Shepherd who appears to have had ME all her life but was not diagnosed or managed until she ended up in a shelter and was saved by a wonderful rescue. She was evaluated and diagnosed with medical issues including worms, ear infections, and ME, so she is emaciated. They are scrambling to try to get her managed with a proper ME protocol to at least get her stable.
Loki is currently on a lot of medications necessary to treat worms and ear issues so those will not be needed the rest of her life. Once she setrtles into a better home environemnt that is not so hectic, she will bond and love having a job to do.
This beautiful sweet girl is really a great dog and needs someone who will follow thru with the proper protocol for the ME, but also let her know she is staying and loved forever. She is great with children, parrots (yes….parrots), cats, and other dogs, but gets anxious when on a leash and a bit fidgety when being handled or groomed but has never shown aggression. Loki is obedience trained (knows sit, down, stay, heel), is housebroken, and crate trained as well.
Current age:

1 ½ years old

● Current weight:

35 lbs

Dogs Current Status:

With

● Location:

Los Angeles, CA
Timeframe needed to find a home: As soon as possible
Medical information (spay/neuter, chipped, other health conditions if any, etc):
Worms

Double ear infection

Weakness or uncoordinated in back legs

Muscle wasting
Where and how did we get this dog:
"Originally adopted from the shelter and immediately placed into a family home, however the dog came back to us for training issues and we discovered she was emaciated with worms and through vet visits we discovered she had ME."
Where and how ME was diagnosed:
Animal hospital (give name if known): Country Animal Hospital and Warner Pet Center
X-rays or barium study: x-ray
Meds currently taken:
Famotidine (10mg 2x day)

Dewormer

EnteDerm for ears

Fipronil for fleas

CBD
Food brands and consistency (meatballs, milkshake, pureed, etc):
Eats canned party animal lamb with flax and chia seeds

Include some nutrical

Consistency is very soft pate
Fed how many times per day in what position and timeframe:
Eats 4 times per day

Places 2 feet up chest with head elevated into bowl

Secured to a leash for 20+ minutes afterwards so she remains upright
Hydration method and consistency (Knox Blox, SubQ, Thick It, etc):
Water and ice cubes
Items that will go to the new home:
Health records

Collar

Leash

Crate if needed

Looking into trying a neck hug at night
Exercise preferred (if any) and level (high, moderate, low):  
Moderate, currently struggling with even moderate exercise though and breathing or regurgitating.
Miscellaneous:  
Great with children

Great with a parrot

Good with cats once told to leave them alone  

No dog social skills, and pushy to play but shows no aggression

Does like other dogs and can live with them peacefully

On leash has high anxiety and whines  

Fidgety and squirmy when handled or groomed but again no aggression

Leash trained and in basic obedience – knows heel, sit, stay, down

Housebroken

Crate trained
Additional notes (any other pertinent information that will help you decide if you might be the safe, loving forever home):
"She needs a strong and strict leader or else she will cause trouble and push other pets or people into getting what she wants.  Her anxiety needs to be managed with a calm household, lots of other dogs or action increases her anxiety and she struggles with the busy Los Angeles neighborhood.  However, if she has this, she becomes very bonded, responsive, and loves having a job to do. Currently she is struggling with the side effects of starving and the condition being undiagnosed for so long and has been slow to gain weight. "
Created: May 12, 2019