This is MADDIE
"Maddie is a 5 yr old white German Shepherd who ended up at our local animal control facility as an extremely emaciated stray 4 years ago.  We rescued her with the intention of placing her in a new home and then we discovered that she has ME.  She has been a long term foster since then but we have never given up hope that the right home would come along
Maddie's idea home:  Only dog household with someone who has the ability to be home much of the day if possible or who is willing to have a petsitter visit at midday to let her outside and feed her midday meal.  Maddie has done well with our laid back relaxed male German Shepherd but tends to be very guarded and uncomfortable around our high energy male Staffie.
Like many GSD's Maddie has extremely high prey drive and cannot live with small dogs/cats or other small animals.  While we do think she could slowly integrate into a home with another laid back dog she would much prefer to be the only child if possible.  Maddie has environmental allergies which are well managed with Apoquel daily and bathing once a month.  In addition to the allergies, she suffers from separation anxiety.  She currently lives in a home were both adults are gone for 5-10 hours a day and we manage her separation anxiety with a combination of inexpensive medications that have been tailored to her through consultation with a veterinary behaviorist.  Our current schedule of having a petsitter stop by the house at midday, when our schedules have us out of the house for longer periods of time, has worked really well.  Maddie would thrive in a home with someone who is home even more than that.
While Maddie does have some special medical and behavior needs (when it comes to other animals) she is an amazing human companion.  She is truly happiest when she is with a person.  While many dogs with separation anxiety tend to be extremely needy Maddie is very good at self-entertainment when she feels safe and comfortable.   Her absolute favorite things are: playing fetch, flirt pole and lounging on the couch, or playing with her chew toys and chuckit balls.  Maddie would be a perfect fit for any adult home or one with teenagers but we think the activity level of young children might be a bit over stimulating for her."
Current age:  4 yrs old                      ●          Current weight:  63 lbs
Dogs Current Status: Foster            ●          Location: Louisville, KY
         Before – when we first got her                      Now – note her beautiful, smiling face
Timeframe needed to find a home: Looking to place her as soon as possible (within the next 6 months to a year)
Medical information (spay/neuter, chipped, other health conditions if any, etc):
 Spayed
 Chipped
 Allergies which are managed with daily Apoquel
Where and how did we get this dog:
We got her from Louisville Metro Animal Services. Maddie was pulled from this public high kill facility and placed with us for 4 days as short term fosters and then sent to MI to a rescue.  The rescue did not do slow intro's with her, and just rushed her into meeting new dogs at foster home's adoption events.  She became more and more reactive with dogs with each negative experience.  They decided not to adopt her out so we asked that she be returned to us.  When we first pulled her out of the shelter she weighed 43 lbs, we put 5lbs on her in the few days we had her.  When she returned from MI she weighed 40lbs and was extremely anxious.  We have been working with her since then to stabilize her health issues – allergies, anxiety (especially with confinement) and ME.
Where and how was her ME diagnosed:
Animal hospital (give name if known): Breckenridge Animal Hospital
X-rays or barium swallow: Both
Food brands and consistency (meatballs, milkshake, pureed, etc):
ProPlan Grain Free Chicken canned food (2.5 – 3 cans per day)
Ordered from Chewy.com
Fed how many times per day in what position and timeframe:
 Fed 3 times per day
 Bailey Chair
Sits for 45-60 min and naps post meal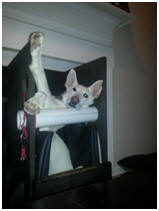 Hydration method and consistency (Knox Blox, SubQ, Thick It, etc):
 Gets most of her water with her meal
 Also likes Knox Blox in the summer for added hydration but is very picky about flavor
NOTE: We have a multi dog household and occasionally she will drink from the raised feeder.  When she does, she will be put in the Bailey Chair for 15-20 min.
Meds currently taking: Apoquel, Clomicalm, Xanax, Trazodone
NOTE: The Xanax and Trazodone are situational anxiety medications which we currently use daily with our work schedules but could be used less often with an owner who worked from home or was retired.
Items that will go with her:
 Bailey Chair
Health records
Newtrix Headhalter
Freedom Harness
Neck hug
Miscellaneous:
Children 12 and up that are dog savvy should be fine; has been around younger children and done well with some and been scared by others (the loud screaming and running behavior can make her nervous)
Currently lives with 4 other dogs but her ideal home would be as an only pet
Has some significant prey drive so cats and small dogs are not recommended
Walks well on leash – started working with her on a Newtrix Headhalter, then graduated her to a freedom harness
NOTE: Maddie can be leash reactive especially with other reactive dogs but we have
been using a combination of progressive reinforcement/marker training, Look at that, and BAT, to improve her reactivity and she is doing VERY well.  While we have taught Maddie to walk on leash, she actually prefers just hanging out in the back yard or going
 on a quiet hike.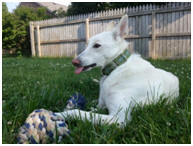 Incredibly smart and loves to learn and work
Has been to basic agility class and knows all the equipment
NOTE: When training, we use LeanLix, small amounts of squeeze PB and a refillable training tube that I can put soft food combos into for her to lick.  She LOVES to learn and really thrives with clicker/marker training techniques. She is VERY sensitive to both voice and demeanor and will cower if tone changes even just slightly.
Will crate easily and actually enjoys her crate when the door is open
NOTE: She does have some separation anxiety which is well managed with Clomicalm,
Trazodone and Xanax.
At night, sleeps crated on an incline in our bedroom
NOTES (any other pertinent information that will help you decide if you might be her safe, loving, forever home):
Skill Sets:
Responds well to force- free/clicker training
Is incredibly sensitive to voice cues and learns very quickly
Currently enrolled in agility class, beginner level to build trust and confidence
Mastery of loose leash walk on head halter &/or harness using force free –training
methods
Knows, sit, down, shake, loves to play fetch