This is MISHKA,
Mishka is an absolutely GORGEOUS baby girl who young, well managed, sweet and must get into another forever home. She was saved by this wonderful military couple but due to husband deploying long-term which leaves no ability to manage her alone, they need to find the safest, most loving home possible prior to end of December.
Please know this is an extremely difficult and gut wrenching decision for the owners, but they are doing this out of love for this beautiful girl and hopes she will thrive and have the most loving life possible in a new home.
Also be aware the owners are very private so are not on social media. Debbie and I will be watching for comments and further questions someone might have otherwise use the contact info provided or use my email at cyport1385@att.net since we have been working closely with them for management and now a forever home.                                           
Current age:

5 months old

● Current weight:

40 pounds

Dogs Current Status:

With owner

● Location:

Twentynine palms, CA
Timeframe needed to find a home: 2 ½  months
Medical information (spay/neuter, chipped, other health conditions if any, etc):
Up-to-date on shots

Rabies vaccination is current

Not yet spayed due to age and ME
Where and how did we get this dog:
Was taken from a breeder who was diagnosed with cancer as temporary to help breeder but once he found out her condition he wanted to put her down so she was adopted to save her life.
Where and how was ME diagnosed:
Animal hospital: Paws and Claws Urgent Care / 760.610.2454
X-rays or barium swallow: X-rays
Meds currently taken: None
Food brands and consistency (meatballs, milkshake, pureed, etc):
Is fed 4health grain free puppy food

Consistency is meatballs with sweet potato and pumpkin, water and goats milk

Fed how many times per day in what position and timeframe:
Eats 3 times a day

Uses a Bailey Chair custom made by military friends and delivered sent with much love

Sits in chair 15 min after eating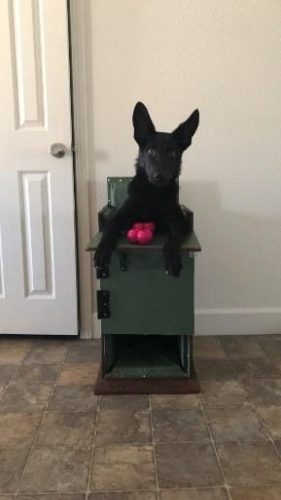 Hydration method and consistency (Knox Blox, SubQ, Thick It, etc): put water in her food and freeze water mixed with baby food in toy she gets after eating while in chair
Items that will go to the new home:
Chair

Shot records

Toys

Bed

Leash

Collar

Travel neck hug pillow

Exercise preferred (if any) and level (high, moderate, low): Moderate          
Miscellaneous:
Loves children

Hasn't been around cats

Gets along well with other dogs

Leash trained

Housebroken – will occasionally have accident if not let out right away

Crate trained

Uses a travel neck pillow when not eating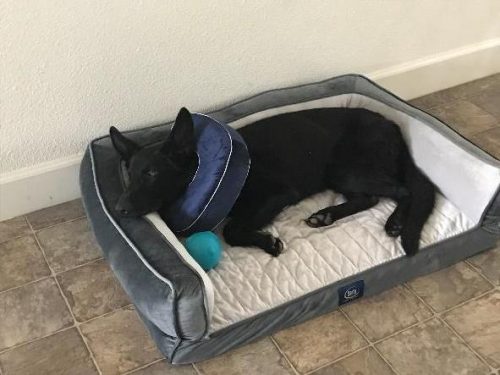 NOTES (any other pertinent information that will help you decide if you might be the safe, loving forever home):
"Mishka is the sweetest dog and she's very smart. She loves to go for walks and loves to play. She knows sit, no bite and we have been working on stay and come."
Created: October 22, 2018
Reposted: November 24, 2018