This is NANUK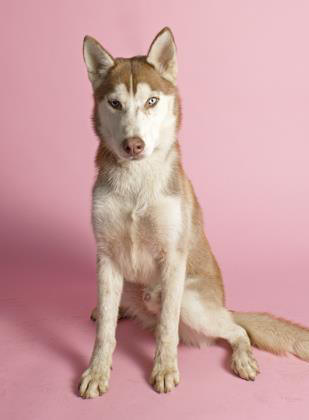 Nanuk is a young Husky who has had not only a horrible start to life but is in CRITICAL need of either finding a rescue to take him in or a forever home where he may receive the management care he desperately needs. Nanuk was found as a stray by animal control so is living at their shelter which is NOT a good environment due to their schedules being way too hectic to properly give him what he needs with individual care.
They are urgently asking for a rescue or forever home to step forward so he can thrive and get what he needs…much more individual time to feed him and work with him in a home environment.
Here is a video posted on SPARC FB page of Nanuk eating (you can a better idea of this adorable, handsome boy): https://www.facebook.com/320367627977172/posts/2582238461790066/
Current age:

1 year old

Current weight:

37.6 lbs

Dogs Current Status:

Living at SPARC – the city shelter

Location:

Santa Paula, CA

Shelter Name & Location:

Santa Paula Animal Rescue Center (SPARC) / Santa Paula, CA

Contact info:

805.525.8609 /

info@santapaulaarc.org

or

nickysparc@gmail.com

(executive director)
Timeframe needed to find a home: ASAP and very urgent!!!
Medical information (spay/neuter, chipped, other health conditions if any, etc):
Neutered (7/19/18)

Microchipped (7/19/18)
Where and how did we get this dog: Brought in as a stray by animal control on 7/17/2018
Where and how ME was diagnosed:
Animal hospital (give name if known): Horizon Veterinary Hospital, Ventura, CA); he had
aspiration pneumonia
X-rays or barium study: x-rays
NOTE: Nanuk had aspiration pneumonia when they had him diagnosed and was given the proper meds so is doing really well.
Meds currently taken:
Metaclopromide 15mg BID twice daily

Famotidine 10 mg twice daily
Food brands and consistency (meatballs, milkshake, pureed, etc):
Eats a little more than a can of ID made into meatballs

Gets finger dabbed with baby food to keep him upright after eating; Kong Quest bones
have been sent and they will fill with 1 jar baby food, freeze then he can lick it instead of the dabs
Fed how many times per day in what position and timeframe:
Fed 3 times per day

Sits in a lined metal trashcan (we lift him into it), but also has a Bailey Chair

Stays upright 20 min after eating
Hydration method and consistency (Knox Blox, SubQ, Thick It, etc):
LRS SQ 500 ML once daily

40-50 cc daily too
Items that will go to the new home:
Health records if needed
Exercise preferred (if any) and level (high, moderate, low):  Low level exercise before and after feedings – walking only
Miscellaneous:  
Okay with children and other dogs

Reaction to cats is unknown

Leash trained and walks very well on it

Not housebroken

Crate trained

Likes to

chew on bedding material and stuffed toys
NOTES (any other pertinent information that will help you decide if you might be the safe, loving forever home):
From Jill: When reading through his information, PLEASE note he is living in the shelter so they do not have time to care for him properly but are trying. Since he was found as a stray, they would have no idea about the crate training, walking on a leash, or being housebroken again due to time constraints.
Created: September 7, 2018