This is PHOEBE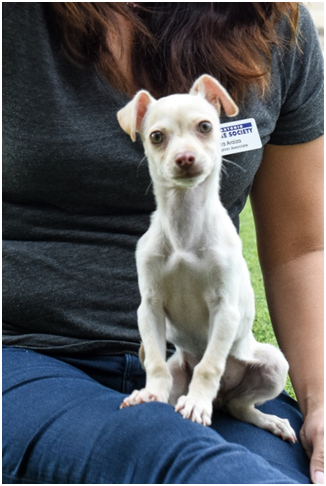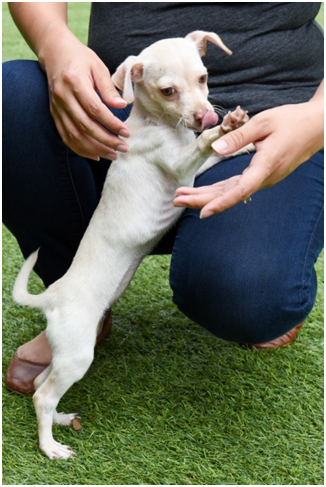 Phoebe is an adorable, baby Terrier (Chihuahua) mix. She was an "owner surrender" as part of a litter, but because none of her other littermates had ME, they have since been adopted. Phoebe is very energetic, loving, and has a fighting spirit. She loves life and interaction with all people, and seems to be interested in other dogs.
Even though Phoebe lives in the shelter and is taken care of by shelter employees, the wonderful staff is very devoted to her and concerned she gets the care she needs. Her sweet spirit has inspired the staff to commit to her care, which is difficult in a shelter setting due to the number of animals under their care at one time.
Current age: 4 months old                 ●          Current weight: 6 pounds
Dogs Current Status:                        ●          Location: San Antonio, TX
Fosters Name & Location: San Antonio Humane Society, San Antonio, TX
Contact info:  Dr. Teresa Sanders
Chief Veterinarian at the San Antonio Humane Society
4804 Fredericksburg Road, SA, TX 78229
226.7461, ext. 122
tsanders@sahumane.org or www.sahumane.org
Timeframe needed to find a home: Currently looking for foster, foster to adopt, or permanent placement in the next 3 months, the sooner the better for Phoebe!
Medical information (spay/neuter, chipped, other health conditions if any, etc):
All preventative care is up to date (deworming, vaccination, flea/tick/heartworm meds)
Will be microchipped prior to foster/adoption
Will be spayed her prior to adoption
Where and how did we get this dog:
Phoebe is an "owner surrender" as part of a litter; none of the other littermates we have at our shelter had this problem, and they have since been adopted
Where and how was ME diagnosed:
Animal hospital (give name if known): San Antonio Humane Society
X-rays or barium swallow: Plain x-rays (are digital and can be emailed)
Meds currently taken: Metaclopromide
Food brands and consistency (meatballs, milkshake, pureed, etc):
 Food used is Purina CN (high calorie diet), soft canned food
Fed ¾ of a can per day, divided into 3 small feedings
NOTE: We have calculated her calorie count and have allowed for growth-she is
consuming more than the total number of calories she needs per day. She has not lost weight and has maintained a consistent weight since her admittance.
Fed how many times per day in what position and timeframe:
Fed 3 times per day
Eats in a baby carrier (or is placed in someone's arms)
Fed upright then held upright for 15 minutes afterward
Hydration method and consistency (Knox Blox, SubQ, Thick It, etc):
Lixit water bottle for rodents/rabbits is attached to her kennel
Items that will go to the new home:
Health records
Baby carrier
A few cans of CN and will provide prescription as needed for additional food
Exercise preferred (if any) and level (high, moderate, low): High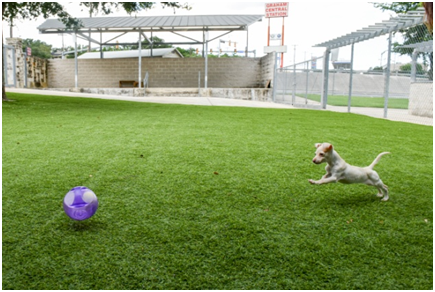 Miscellaneous:
Loves children
Has not met cats
Seems excited with other dogs – slow introduction recommended but she seems eager
to play with dogs her size; have not introduced her to larger dogs yet
Not yet leash trained because she has not finished her Parvo vaccine series; when she
does, she will be on a harness first
Working on housebreaking
Crate trained
NOTES (any other pertinent information that will help you decide if you might be the safe, loving forever home):
"Phoebe has an energetic, loving, fighting spirit. She loves life and interaction with all people, and seems to be interested in other dogs. We have kept her protected because she is so young, but suspect she would be grateful for canine company!
Her sweet spirit has inspired our staff to commit to her care, which is difficult in a shelter setting because of the number of animals we have under our care at one time. Our staff is very devoted to her, and very concerned that she get the care she needs in a loving foster or forever home, as we love her so very much!"