This is PRECIOUS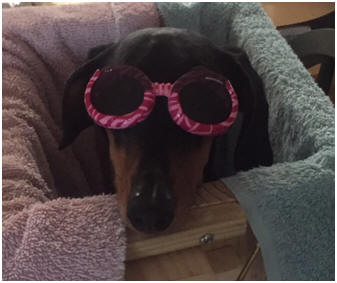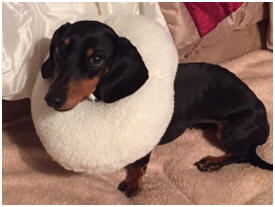 Precious with her Doggles – see below how active this girl is and what activities she does, but also what she will try next!!!!
Precious is an adorable black and tan Mini Dachshund. She is very active, loves to be with her humans and wants to get involved in anything you might be doing. If you have a riding lawn mower and she's outside, she wants to ride on your lap which is why she has Doggles. She will get to try Kayaking too, so also has a Life Jacket. Precious loves to be kissed on the side of her face and she LOVES sleeping in. Since her foster mom doesn't do mornings, sometimes they have to go in and get Precious up. This cute girl will thrive in an active home and love it if her new family has fun activities where she may stay active.
Current age:   5 yrs old                      ●          Current weight: 9 pounds
Dogs Current Status: With foster      ●          Location:  Inverness, FL
Fosters Name & Location: Krista, Foster Mom / Inverness, FLA
Contact info:   www. DaretoRescue.com (Dachshund Adoption Rescue Education)
Complete and submit adoption application
Timeframe needed to find a home:
Medical information (spay/neuter, chipped, other health conditions if any, etc):
Spayed
Up-to-date on all shots
Where and how did we get this dog:
Jacksonville Humane Society, FL on 11/05/15
Where and how was ME diagnosed:
Animal hospital (give name if known): Diagnosed with ME at JHS
X-rays or barium swallow: X-rays and Barium Swallow
Meds currently taken:
Cerinia Tablet 24mg: 1/4 once a day
Metoclopromide Syrup: 1.3mls twice a day
Famotidine tablet 10mg: 1/4 twice a day (OTC)
Food brands and consistency (meatballs, milkshake, pureed, etc):
Canned ID (not the stew) mixed with water
Mature Dog Supplement by PetAg diluted with water (similar to Doggie Ensure and she
loves it; found it at WalMart when she quit eating the Knox Blocks)
Fed how many times per day in what position and timeframe:
Fed 2 to 3 times a day
Uses a Bailey Chair to eat
Sits for 30 minutes after eating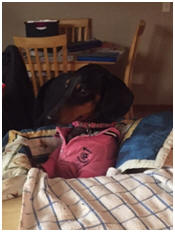 Hydration method and consistency (Knox Blox, SubQ, Thick It, etc):
Gets mixed with food
Exercise preferred (if any) and level (high, moderate, low): Medium to high energy
Items that will go to new owner (Pro Collar, chair, bed, health records, etc):
Pro Collar
Bailey Chair
All health records
Miscellaneous:
Loves people.
Loves kids – prefer 8+ depending on maturity and experience with dogs
Good with other dogs (lives with 5 other dogs)
Good with cats (1lives in the house now)
Very house trained
NOTES (any other pertinent information that will help you decide if you might be the safe, loving forever home):
"Precious loves to play! Our other dogs won't play no matter how hard she tries. She enjoys fetching any ball and chewing on a Nylabone. When we are not home, she wears her Pro Collar and goes into our closet where we put a bed for her. Apparently she did this at her other home. At night she sleeps in bed with us wearing the Pro Collar. She is a "communicator". When she wants something, she will let you know but you have to figure out what it is. Hungry? Go outside? Want to play? Pick me up? Etc. She does not bark when left alone. If you have a riding lawn mower and she's outside, she wants to ride on your lap. Therefore, she has Doggles. We're going to try Kayaking too and she has a Life Jacket! We just have to make sure she doesn't get overheated. Precious loves to be kissed on the side of her face.
You will need to take her to the groomer or vet to have her nails trimmed. She does well with a Dremmel. Only habit she has is licking. With enough interaction and activity, this should stop."