This is REMMY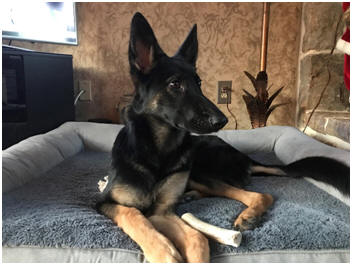 From her owners: "Remmy is a gorgeous female German Shepherd who loves to play and has a heart of gold. We've taken her on many trips and every time she enjoys everything about being with us and a new adventure.  Remmy is extremely friendly with new people and loves children often giving them puppy kisses while her tail wags.
It breaks our hearts we have to consider this however our work schedule confines us to 2 feedings a day and 3 on the weekends when we can. She could really benefit from 3-4 feedings a day. 2018 also brings an adjusted work schedule for us both with generally longer hours and increased travel in the March to November time frame for Megan."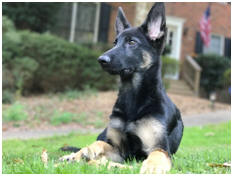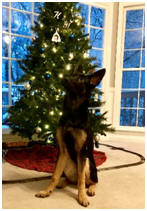 Current age:  6 ½ months old                       ●          Current weight: 42 lbs
Dogs Current Status: With owner              ●          Location: Marietta, GA
Owners Name & Location: Adam and Megan Stoltzfus; Marietta GA
Contact info:  Adam – 484.883.8975 & astolt12@gmail.com
Megan – 302.528.5880 & megan.hossler@gmail.com
Timeframe needed to find a home: ​ Not extremely dire at the moment however come March timeframe when our travel for work picks up the urgency will increase. We want to find her a forever home preferably, not a foster
Medical information (spay/neuter, chipped, other health conditions if any, etc):
Currently not spayed
No other health issues
Non MG, Addison's, or thyroid imbalances (tested)
Where and how did we get this dog:
Purchased her from a breeder in Woodstock, GA – have had her since 7 weeks old
Where and how was ME diagnosed:
Animal hospital: Cobb Emergency Veterinary Clinic; 2nd opinion and retesting completed at Paces Ferry Veterinary Clinic, Smyrna, GA
X-rays or barium swallow: X-rays.
Meds currently taken:
Famotidine 1x in the AM
Slippery elm at breakfast and dinner
Food brands and consistency (meatballs, milkshake, pureed, etc):
Currently feeding meatballs
Made with a mix of Merrick grain free puppy food, pumpkin and coconut oil
Fed how many times per day in what position and timeframe:
Fed 2 times a day on weekdays, 3 times a day on weekends
Eats in a Bailey chair
Stays upright 20 minutes after feeding
Hydration method and consistency (Knox Blox, SubQ, Thick It, etc):
Knox Blox as well as water from her meatballs and the occasional ice cube
Items that will go to the new home:
 Bailey chair
Bed
Harness
Leash
Toys
Medicine
Door bells
Any food left at the time
Equipment used to make her meatballs (blender, food storage, etc)
Exercise preferred (if any) and level (high, moderate, low):
Loves to play, but trying to keep her from exerting too much so she puts on weight
Walking around the yard and neighborhood are her favorite along with chasing sticks
and golf balls thrown on our property
Can handle exercise of varying forms from low to extreme but as stated above we try to
routinely keep her in the low to moderate range
Miscellaneous:
Great with children and dogs
Curious with cats but is not ill tempered toward them, just curious and inquisitive (was
with my family's cats over Christmas for a week with nothing but tail wags…toward the end she and the one Tabby, Belle, became a modern day Milo and Otis)
Leash trained and working on off leash currently
Working on overcoming new people being around her
Housebroken – uses bells on the door to alert you to when she needs to potty
Crate trained – does not have an issue being in there at night or during the day for work;
we generally leave a TV or radio on and she falls asleep once inside
Does not need to use a pro collar – have seen good results from her sleeping in her crate
with the bed we purchased; it has bolstered sides which she lays her head on at night keeping it elevated; has worn a collar before and wasn't upset with it, but not sure what it was; with time if needed I believe she would see this as normal
Additional notes​ ​(any other pertinent information that will help you decide if you might be safe, loving his forever home):
"Remmy loves to play and has a heart of gold. We've taken her on many trips and every time she takes it all in.  She loves to play fetch with sticks and golf balls (I started chipping golf balls for her to fetch when she was a pup). She is extremely friendly with new people and loves children often giving them puppy kisses while her tail wags. She knows sit, stay, laydown, paw, come, nose, up, down, head up, drop it, seek, no!,
It breaks our hearts we have to consider this however we unfortunately cannot continually watch struggle to put on weight. Our work schedule confines us to 2 feedings a day and 3 on the weekends when we can. She could really benefit from 3-4 feedings a day. 2018 also brings an adjusted work schedule for us both with generally longer hours and increased travel in the March to November time frame for Megan."
Created: Feb 7, 2018