This is ROO,
VERY PERSONAL EXTENUATING CIRCUMSTANCES: This is one of the saddest postings we have been asked to do. Lives can change in many ways and this one will not allow Roo to be able to stay with her most loving owner of 8 years. DO NOT PASS JUDGMENT as everything possible has been tried to keep Roo in this home, but it cannot work. Best outcome for her is another loving, safe home for this very active, loving, well managed girl as opposed to having no options when moving takes place June 1st.
Beautiful Roo is three quarter Border Collie and one quarter Black Lab and has been owned by this person her whole life but must now find a new home since her owner must move and cannot take her along where she will be living. Roo is trained to ring a bell to let you know she needs to go outside. She will THRIVE with a lot of exercise since she loves to jog with someone, run around and play, and the owner has even suggested being on a ranch doing some herding as a favorite for her as well.
Current age:

8 years old

● Current weight:

45 pounds

Dogs Current Status: ● Location:

Seaside, California
Timeframe needed to find a home: Needs to be in new home by June 1, 2019
Medical information (spay/neuter, chipped, other health conditions if any, etc):
Spayed

Microchipped

Up-to-date with all shots and vaccinations
Where and how did we get this dog:
We own her mother Sadie (Also Black Lab/Boarder Collie and we got her in Red Oak, Texas) and bred her with a full Boarder male. She was born October 31, 2005 in Red Oak, Texas in a litter of 8 from Sadie. All other puppies were re-homed. She was the runt of the litter due to her illness and we kept her.
Where and how was ME diagnosed:
Animal hospital where diagnosed: Oceanview / Pacific Grove, CA / 831.649.4111 / Dr Power
Current hospital: Cottage Vet / Pacific Grove, CA / 831.372.3524 / Dr Williams
X-rays or barium swallow: X-rays
Meds currently taken:
Reglan (keeps her from regurgitating) given 3 times a day (every 8 hours) given with peanut butter
Food brands and consistency (meatballs, milkshake, pureed, etc):
Eats IAMS kibble

Soak about 10 mins

Fed how many times per day in what position and timeframe:
Fed upright in a Bailey chair

Does well with

small meals

Fed 3 times a day (every 8 hours or so)

Gets about ¾ cup of food each meal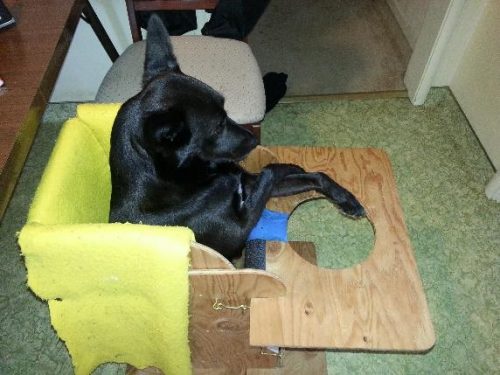 Hydration method and consistency (Knox Blox, SubQ, Thick It, etc):
Knox Blox (Gelatin) 10-15 oz per

No regular water from a water bowl
Items that will go to the new home:
Bailey chair with pillow to sit on

2 white feeding bowls

Leash and Harness (clip leash under right leg when walking so doesn't pull on throat)

Toys: Ball, stick with bunny toy to chase

Pads to sleep on – best if she sleeps upright with chest elevated

Carpet Cleaner with soap

T-Shirts to put on her when she is anxious

Bell for door handle (rings to be let out)
Exercise preferred (if any) and level (high, moderate, low):
Moderate fast pace

Loves to go for a jog

Love to take walks
Miscellaneous:
No cats

Has had no exposure to children

Minimum interaction with other dogs


●

Likes to play at dog parks, but needs monitoring

Will chase small animals (possums, squirrels, crows, rabbits, etc.)

Leash and harness trained

Housebroken

Not crate trained

Needs to be elevated at night – currently sleeps on a recliner but neck hug would work
NOTES (any other pertinent information that will help you decide if you might be the safe, loving forever home):
Needs lots of exercise, great if you have a large yard

She gets excited around bikes, large trucks, mailmen

Likes affection and being close to people – will follow you

Will scratch in the floor when anxious, so has t-shirts to alleviate stress

Rings the door handle bell to be let outside

She is a great dog and would be a great herding partner on a ranch
Created: April 14, 2019
Revised: April 19, 2019