Here is ROSE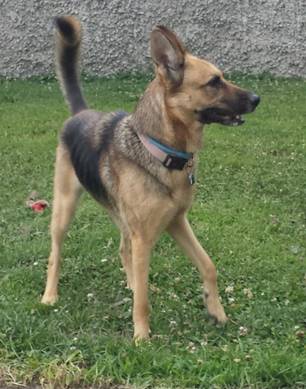 Rose is a beautiful, energetic German Shepherd who really needs to find a home where she may spend the rest of her life. Though she is 6 years old, Rose is energetic, loves to play, gets along great with children and other dogs and loves having fun with people.
This situation is unusual as the owner is in the military and due to deploy very soon. Since there have been recent "life" changes for him at home, he cannot keep her and has no one in his family that can do so.
Current age:6 years old                    ●          Current weight: 55 pounds
Dogs Current Status:Owned           ●          Location: Virginia Beach, Virginia
Owners Name & Location:Thomas & Linda / Virginia Beach, Virginia
Contact info: tbrume@yahoo.com or 405.514.1866
   Timeframe needed to find a home: As soon as possible due to deployment date
Medical information (spay/neuter, chipped, other health conditions if any, etc):
Where and how did we get this dog:
A private owner in Florida, May 2009
Where and how was her ME diagnosed:
Animal hospital (give name if known): Anne Arundel Veterinary Emergency Clinic
X-rays or barium swallow: Not known
Meds currently taken: None
Food brands and consistency (meatballs, milkshake, pureed, etc):
Food is pureed
Blue Buffalo
Fed how many times per day in what position and timeframe:
Fed twice a day
Standing and put food on step ladder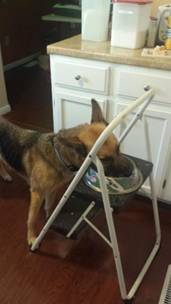 NOTE: The owner has been trying to keep her sitting up for at least 10 minutes after
eating, but the problem is she wants her belly rubbed and tries to flop on her back.
Hydration method and consistency (Knox Blox, SubQ, Thick It, etc):
Drinks water
Items that will go with her:
All health and shot records
Bed
Collar
Leash
Toys
Exercise preferred (if any) and level (high, moderate, low):
Catch and keep away, trying to catch a pointer light; high energy when she's in good health
Miscellaneous:
Loves children
Loves playing with other dogs
Curious at smaller animals like cats, guinea pigs and rabbits but not aggressive
Loves to go out on walks but if you don't limit her leash then she will try to pull and get
ahead of everyone
If she gets outside she'll run but she'll come back when she gets tired or done playing
chase
Housebroken
Crate trained
Trying different methods of keeping head elevated; lately she lies on the couch and we
prop her head up with a pillow or she rests her head on the armrest
Additional notes (any other pertinent information that will help you decide if you might be safe, loving his forever home):
"She is a happy and energetic.  She loves to play with people and other dogs.  She has always loves going to the dog park and playing with the dogs she meets there.  She's shared her home with many dogs while their parents were out of town for the day or overnight.  She loves going for trips but gets a little too excited and may get sick in the car.  She loves playing on the beach and in the water."