This is RUBY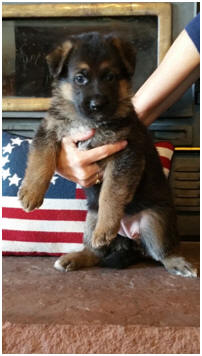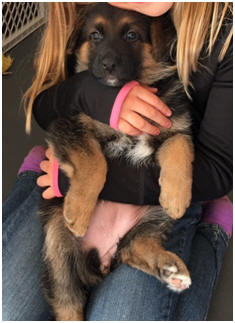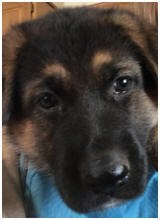 Ruby is a beautiful baby female German Shepherd puppy who is only 7 weeks old. It looks like the owner will have to make an attempt to find a wonderful, loving home for this sweet girl.
From the owner: "Please see the short video (in the link provided below) of her running to her stool for her meal today.  She is so smart and has been doing this for days. Ruby is truly a precious gem and please know it brings tears to my eyes as I type this because I love her so much and want to keep her.   I travel a lot to see grandchildren across country, I run a business that takes an extreme amount of time…I just can't give her all she deserves.  That being said I will ONLY adopt her out if I think it will be an absolutely perfect fit for her. Prospective families have to prove they are fully aware of ME and equipped to provide for her fully. She is so patient while I hold her after meals and rests her head on my shoulder.  I can't express how beautiful she is inside and out."
 From the owner: "I have not seen her regurgitate since I started the vertical feedings on Oct. 26, one week ago.  I mush her kibble with warm water, pudding like, and hold her upright for 15 minutes 4 times per day.  Yesterday, on her 7 week birthday, she weighed 13 lbs 2 oz (next pup up in wt. was 14.4….and we weigh her every few days, so it's a steady gain, never a loss).
Current age: Born 9/13/16, 7 weeks old       ●          Current weight: 13 lbs, 2 oz
Dogs Current Status: With owner                ●          Location: Colorado Springs, CO
Use this link to see more pictures and video of dear little Ruby.
https://goo.gl/photos/5Zs7RLwEGLT5Y3GdA
Timeframe needed to find a home: No time frame, I'll keep and love this little gem until I find the perfect home, but it will become harder and harder to part with her as time goes on
Medical information (spay/neuter, chipped, other health conditions if any, etc):
 Up-to-date with puppy shots
 Dewormed
 No other health conditions
 Very healthy otherwise, keeping her food down, and the vet said he's never seen such a
"robust" puppy with ME
Where and how did we get this dog:
We had a litter of purebred German Shepherd puppies 9/13/16 and learned little Ruby has ME
Where and how was ME diagnosed:
Animal hospital (give name if known):
X-rays or barium swallow: barium X-ray study done at 6 weeks of age
Meds currently taken: None
Food brands and consistency (meatballs, milkshake, pureed, etc):
 Eats Fromm's Gold large breed puppy chow
 Soak in water, then puree to a pudding like consistency
Fed how many times per day in what position and timeframe:
Fed 4 times per day
Runs to her stool to get in it
Held upright for 15 minutes after eating
She is still nursing about once per day (I stand her up and hold her upright after)
Trying to get a Bailey Chair for her
Hydration method and consistency (Knox Blox, SubQ, Thick It, etc):
Give her just over 1/2 c of kibble and mix it with over 1 cup of water for hydration
Items that will go to the new home:
Health records
Blankets
Toys that have her mom's and my scents on them
NOTES (any other pertinent information that will help you decide if you might be the safe, loving forever home):
"I'd love to have her stay local because then I could stay in her life, watch her when they leave town, etc."