Here is SARABI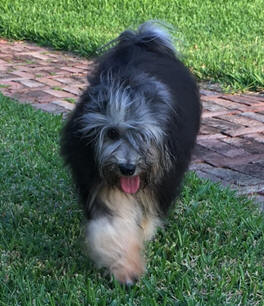 Sarabi is an adorable, very outgoing Lowchen. She LOVES children, playing like the puppy she still is, and having fun with her humans. Sarabi is full of life and energy, so please help her find the perfect safe, loving, forever home where she may thrive and enjoy best quality of life.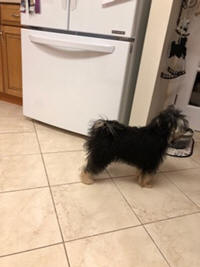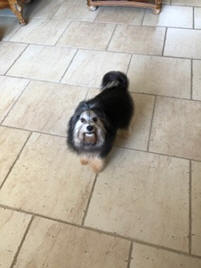 Current age: 6 months                                  ●          Current weight:  8.6 lbs
Dogs Current Status: With co-owner           ●          Location: LaBelle, Fl
Owners Name & Location: Rhonda Langford, LaBelle, Fl / Arlene Butterklee, Long
Island, NY
Contact info:  863.675.1549 (Rhonda)
Timeframe needed to find a home: ASAP
Medical information (spay/neuter, chipped, other health conditions if any, etc):
 Has puppy shots
 Intact – will to be spayed before new home
Where and how did we get this dog: Breeder 4 weeks ago
Where and how was ME diagnosed:
Animal hospital (give name if known): Florida Veterinary Referral Center
X-rays or barium swallow: Barium swallow
Meds currently taken: Sildenafil
Food brands and consistency (meatballs, milkshake, pureed, etc):
 Eats Nature's Variety Instinct
 Soaked in water
Fed how many times per day in what position and timeframe:
Stays upright, 20-30 minutes after eating
 Fed 2 times a day
Hydration method and consistency (Knox Blox, SubQ, Thick It, etc):
  Gets water mostly through water in soaked kibble
 Can use Thick-it
 Has some sips through a licker bottle held up throughout the day
 Not keen on Knox blocks
Exercise preferred (if any) and level (high, moderate, low): ):
 Loves taking walks – they have 3 other small dogs
 Loves running and playing in the yard as all puppies do
Items that will go to new owner (Pro Collar, chair, bed, health records, etc):
Kong cloud collar that she uses occasionally
Miscellaneous:
Very outgoing
 Loves everyone including 3 grandchildren
 Loves the other dogs and wants to play (but they are older and do not want to play)
 Walks great on leash
 Learning fetch although she would rather play chase
 Working on house breaking
 Has had clean, dry crate over night for past few nights – needs to potty right after eating
 Have to put her in x-pen to potty or she will just play around
 Stays in her crate when not supervised, or x-pen
 Crate is propped up on one end.
NOTES (any other pertinent information that will help you decide if you might be the safe, loving forever home)
"Really would like her to go to someone experienced with her problem.  She is too full of vim and vigor to be put to sleep. Would like her home to be near me if possible just to be able to check on her. Or near her co-owner in Ronkonkoma ( Long Island) NY."
Revised: Mar 12, 2018