This is SPICE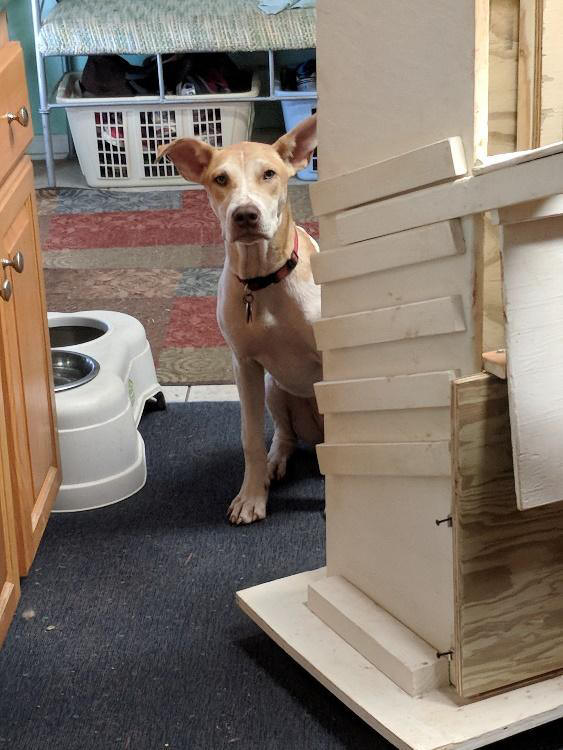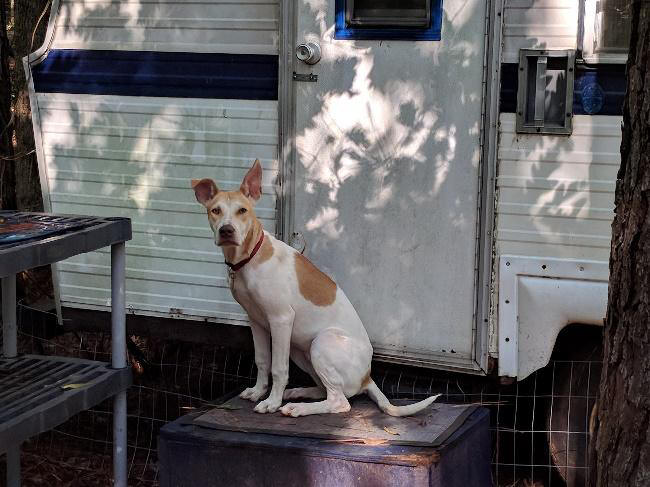 (Spice sitting on the Kitty Kabin step – again – crying to be let in to see her friends)
Spice is an absolutely adorable Hound mix who would LOVE to be in a great home where she can cuddle, sleep with her human(s) and play with other dogs and even cats. She continues to improve and be easily managed – she now regurgitates only if she eats something she isn't supposed to (like poop) or if she starts playing / wrestling with the other dogs immediately after eating… has only happened once in the past week.  She has even helped herself to the dogs' water, the other foster puppies' food and the foster kittens' food within the past week, and she never regurgitated any of it.
From her foster: "I have continually had about three dozen fosters – puppies, kittens and one mama cat – for the past few weeks, so Spice simply isn't getting the individual attention that she needs!  She's doing great, but she needs to be in a household with less dogs and less activity.  I had another foster puppy that was Spice's age and size – but she moved on last weekend.  It was difficult to keep Spice quiet when need be with the other pup here, but I know Spice misses her.  And, we have a new family of kittens (seven of them), in the Kitty Kabin, and Spice still goes out there several times a day to visit.  They love her!
We have also tried introducing her to different situation and people, and she's done great.  Initially she's a bit nervous with strangers; however, she warms up quickly and becomes a sweetheart dispensing kisses.  She's done okay with pre-teen children as well."
Current age:

7 months old

● Current weight:

43

pounds

Dogs Current Status:

With a rescue

● Location:

Eatonton, GA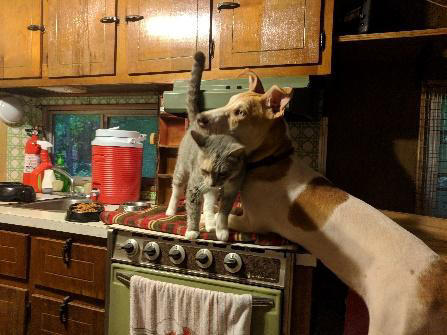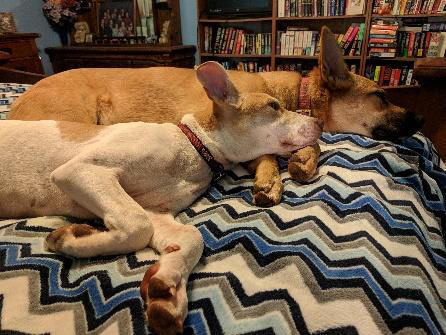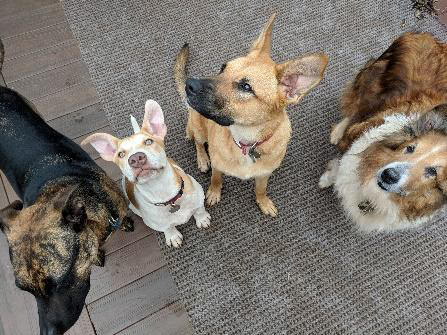 Timeframe needed to find a home: ASAP
Medical information (spay/neuter, chipped, other health conditions if any, etc):
Up to date on vaccines including rabies (7/3/18)
● Spayed

Parvo survivor
Where and how did we get this dog:
Abandoned with sibling; has been with foster for 4 months
Where and how was ME diagnosed:
Animal hospital: Animal Hospital of Milledgeville (Dr. Cheryl Council)
X-rays or barium swallow: Barium swallow with X-rays
Meds currently taken: Advantage Multi (a broad spectrum of parasite protection)
Food brands and consistency (meatballs, milkshake, pureed, etc):
Fed a mix of Purina Puppy Chow softened with water (for 30 min) prior to meals

Follow above with 2 semi frozen "pucks" of softened Puppy Chow, chicken, rice and vegetables (pureed)

Has "dessert" of 1 or 2 frozen cubes of moist puppy food and water

Fed how many times per day in what position and timeframe:
Eats 3 times per day

Stands in her Bailey chair long enough to eat – usually 15-30 minutes

Stays relatively calm for 30-60 min after eating (no running, wrestling, or playing)
Hydration method and consistency (Knox Blox, SubQ, Thick It, etc):
Enjoys plain ice cubes and/or frozen Knox Blox (50/50 broth and water)

Stands in front of the freezer to ask for her blocks (50/50 low sodium chicken broth and water)
Items that will go to the new home:
Homemade Bailey Chair

Bed

Health records

Harness

Exercise preferred (if any) and level (high, moderate, low):
HIGH level of exercise needed 

Currently roams free with our personal dogs on 7 fenced acres

Runs and wrestles a lot with the other dogs
Miscellaneous:
Great with dogs (male/female, all sizes and ages)

Good with cats – can get a little too enthusiastic for little kittens

Good with children including pre-teens

Beginner on leash training

Over 95% housebroken – barks at door when needs to potty

Crate trained – she has NEVER had an accident in her crate

Has wonderful recall – "can be in the back corner of our wooded property – far beyond
where I can see her – and when I whistle (with a regular sports whistle) she comes running and will drop to a sit right in front of me"
Knows COME and SIT and of NO commands
NOTES (any other pertinent information that will help you decide if you might be the safe, loving forever home):
"Spice is an amazing girl!  She gets along with all our personal and foster dogs and cats, accepting which ones to avoid.  (Our senior dogs.)  She loves to play, but she's also a big cuddler.  She spends the nights in bed sleeping with us…and she loves to curl up against me using my neck or my arm as a pillow.
We do have to watch Spice – she'll chew on scraps of plush toys or cardboard, or even birdseed when outside and sometimes she regurgitates it."
Created: July 12, 2018
Revised: August 10, 2018