This is SQUEAKY TOY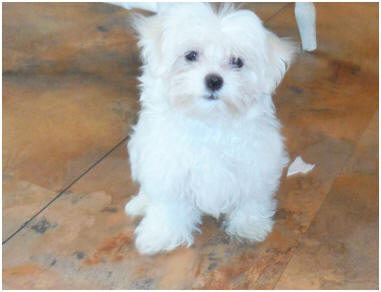 Squeaky Toy is an absolutely adorable male Maltese who is with his owner/breeder. Because of recent health issues, it would be better for him to be placed in a permanent home where he can get the undivided attention he needs. He has boundless energy, a wonderful sweet personality, loves to be held and cuddled, and love's his "dog pack" consisting of his Mommy, Daddy, 6-month old half-sister, and a Labrador retriever.
Current age: 18 weeks old             ●          Current weight: 3 lbs, 15 oz
Dogs Current Status: With owner             ●          Location: Dublin, VA
Owners Name & Location: Danielle Reid / Dublin, VA
Contact info: dreid6@radford.edu   or 540.616.7955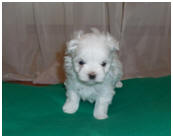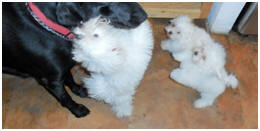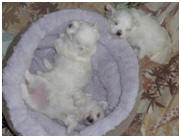 Timeframe needed to find a home: Would like to get Squeaky Toy into a permanent home as soon as possible so he can acclimate – but nothing urgent in our search.   We want to ensure he gets the BEST HOME possible where he will be loved and well cared for the rest of his life.
Where and how did we get this dog: Born in our home
Where and how was ME diagnosed:
Animal hospital (give name if known): Bold Springs Veterinary Service / Pearisburg, VA
X-rays or barium swallow: Have CD of test and results – barium
Meds currently taken: None
Food brands and consistency (meatballs, milkshake, pureed, etc):
Eats Purina ProPlan Toy Puppy kibbles and Ceasar wet puppy food
Fed how many times per day in what position and timeframe:
Fed 2 times a day
Sits up to eat
Stays in that position for ½ hour
Rests in his crate for another ½ before letting him out to play
Hydration method and consistency (Knox Blox, SubQ, Thick It, etc):
Can drink water
Items that will go to the new home:
Feeding chair
Health records
Toys
Puppy wooby
Exercise preferred (if any) and level (high, moderate, low): Squeaky Toy has lots of energy and plays with his 8-month-old half-sister.   Loves to play with our other dogs and gets along well with others and people
Miscellaneous:
Gets along well with other people
No exposure to cats
Comes when you whistle
Uses puppy pads when can't get outdoors
Crate trained
NOTES (any other pertinent information that will help you decide if you might be the safe, loving forever home):
"We dearly love this little brave puppy and want him to have the best possible future. He has a clam character and loves to be held. He is from champion lines (6-champions in his first line pedigree) and has a bright personality, thick luxurious coat, black eyes, lips and nose."