This is STRIKER,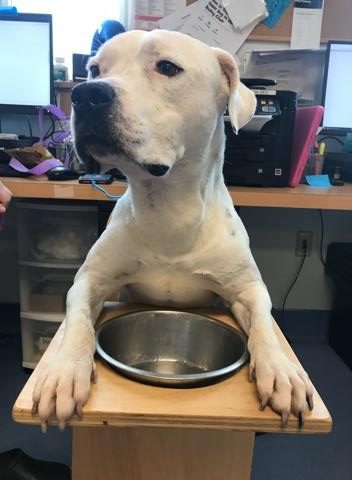 (From the shelter): "Meet Striker! Striker is a handsome 5 year old 55 pound heartworm negative guy looking for a home to bust him out of the shelter.  He's been diagnosed with Megaesophagus but thanks to an awesome volunteer, he has his own Bailey's chair and does just fine eating out of it! Striker is a very energetic, playful guy that enjoys playing with other doggies (not cats please!) He's been waiting here since March to find a home and he is more than ready." 
Check out this video we made all about him: https://www.facebook.com/LifeLineAnimalProject/videos/598645553977015/
Current age:

5 years

old

● Weight:

55 lbs

Dogs Current Status:

With

● Dogs Location:

Chamblee, GA

Shelters Name & Location:

DeKalb Animal Services / Chamblee, GA

Contact info:

Christie /

ckershaw@dekalbanimalservices.com
Timeframe needed to find a home: Has as long as he needs to find a home but we would love to find one as soon as possible
Medical information (spay/neuter, chipped, other health conditions if any, etc):
Neutered

Microchipped

Had skin allergies but that appears to have cleared up

Heartworm negative

Where and how did we get this dog:
Striker's previous owner reported that he had a history of frequent vomiting. Since being at the shelter, we found him to vomit after eating very often. We put him on a hydrolyzed protein food but he continued to vomit after his meals. On 4/1/19 we sent him to a specialist vet where they did bloodwork and ruled out Myasthenia gravis. Our vet has diagnosed him with MegaE and he is currently on Sildenafil and eating his meals in a Bailey's chair that was made especially for him by some volunteers. 

Meds currently taken: Sildenafil
Where and how ME was diagnosed:
Animal hospital (give name if known): ME diagnosed by a DVM and a specialist used to rule out Myasthenia Gravis
X-rays or barium study: X-rays
Fed how many times per day in what position and timeframe:
Eats 2-3 times per day

Uses a Bailey Chair
Hydration method and consistency (Knox Blox, SubQ, Thick It, etc): Gets hydration thru his food consistency
Items that will go to the new home: 
Bailey Chair

Current medication

Medical history
Exercise preferred (if any) and level (high, moderate, low): High energy and loves to play
Miscellaneous:  
Plays rough and rowdy with other dogs – really enjoys playing with them

No cats!

Very friendly, social boy
Created: June 27, 2019