This is TALON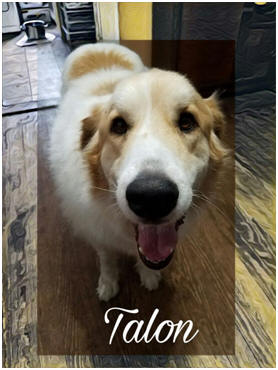 UPDATE FROM THE RESCUE GROUP: "Talon is doing really well with his full ME management protocol. He was overweight at 106 lbs when we got him, but is now around 95 lbs. He loves his Bailey chair and gets right into it and rarely regurgs anymore. The last two times he regurged a lot were during car rides, so I'm going to limit those trips. I took him to two meet & greet events and he was a real hit.
Talon loves to play with the other dogs and is a super affectionate, big goofy Pyrenees. He loves to stand up and hug and would sleep in bed with me if my husband let him! He likes to curl up in my recliner as well.
I had his DNA done an d he is 88% Pyrenees and 12 % mixed, mostly from the hound group and the African group. He howls when he barks, so I guess that is his hound heritage.
Although he is adorable, Talon prevents me from taking in more fosters as I only have room for two at a time, so I would still very much like to find him a great forever home where someone would not mind spending the extra time to feed him. It is well worth it for such an adorable guy."
Current age: 4 years old                               ●          Current weight: 98 lbs
Dogs Current Status: With foster                ●          Location: Dallas, Texas
Fosters Name & Location: Saving Pyrs in Need, Inc. (SPIN Rescue) /  Dallas, TX
Contact info: Debby Cody, Foster 214.649.6927 / diggingbear@diggingbear.com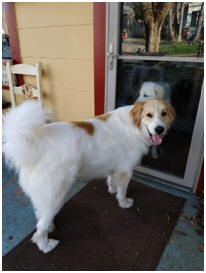 Timeframe needed to find a home: We can keep him as long as needed; we just want to find him a good home where his condition will be properly addressed.
Medical information (spay/neuter, chipped, other health conditions if any, etc):
Neutered
Microchip
Healthy except for ME
Where and how did we get this dog:
Owner surrender from Alabama, transported to Dallas in February 2017. Adopted out but adopter returned dog for medical issues (vomiting). We initially thought he was just getting over kennel cough, but his regurgitation became worse and he was diagnosed with ME. I put a Kong Cloud collar on him and kept it on him all night. He is comfortable in his pro collar, it keeps his head elevated when he is sleeping, and it has really cut down on his regurg.
Where and how was ME diagnosed:
Animal hospital (give name if known):
X-rays or barium swallow:
Meds currently taken:
Tribessen 960 mg x2 daily
Amoxicillin 500 mg
Food brands and consistency (meatballs, milkshake, pureed, etc):
 Gets1-2 cups of water mixed in with about 2/3 cup of ground canned food at each meal
Pyrenees are low energy so don't require as much to maintain good, healthy weight
Moistened and mixed with a tablespoon of canned food, grain free Kirkland brand
Fed how many times per day in what position and timeframe:
Fed using a Bailey Chair
Eats 2-3 times a day (3 cups total)
After his meal, he gets a frozen Kong Quest bone filled with plain Greek yogurt and
smooth peanut butter (about 2 tablespoons of each)
Stays in his chair 20 min after eating
Pat him on the back and burp him like a baby after he finishes eating
Hydration method and consistency (Knox Blox, SubQ, Thick It, etc):
Water, elevated and monitored for amount
Knox blocks – can have a full bowl at a time as long as vertical
If given enough water and Knox blocks at feeding time, he seems to stay away from the
other dogs' water dish
Items that will go to the new home:
Bailey Chair
Kong Cloud Collar
Health records
Exercise preferred (if any): Enjoys playing with our other dogs
Miscellaneous:
 Friendly with children, other dogs, and cats
Leash trained
Housebroken
Not crate trained
Wears Kong Cloud Collar when not eating and especially at night
NOTES (any other pertinent information that will help you decide if you might be the safe, loving forever home):
"Talon is doing really well. My rescue group did a Facebook boost requesting donations for a Bailey chair, and we got enough money to order him one right away. I tried to make one but found that all the instructions on line talked about how to measure the dog but not how big to make the chair. I made mine way too big and Talon could actually curl up in the base of it! Maybe you are better at building than I was.
The majority of the time that he is inside the house, he wears a Kong Cloud collar to keep his head elevated since Pyrenees lie around and sleep a bunch. This helps keep him from regurgitating, just like elevating a person's head helps with acid reflux.
I never allow him to get treats or drink water unless he is in his chair. I find that giving him enough fluids in his chair keeps him from wanting to drink out of the other dogs' water bowl."
Revised: 9/9/17