Here is TANNER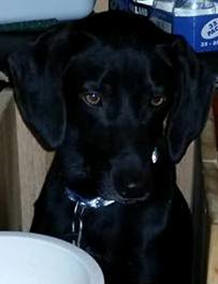 Tanner is a really sweet Hound mix and really needs to now find his forever home. He was with a family, but they couldn't manage his ME well enough. They thankfully turned him over to a really good rescue group who are ME experienced and have him (and his ME brother) managed.
Dogs location (City/State): Billings, MT        ●          Current weight:  40 lbs
Breed: Hound mix                                          ●          Age: about 1 ½ years old
Owners name & location (City/State):  Stacee Barker, Billings, MT
Contact Information (phone numbers, email, FB, etc):  ringo406@hotmail.com
Tanner's Petfinder ad:  https://www.petfinder.com/petdetail/33683483
Situation (foster, owned, DVM, boarding, rescue, etc): Foster home through Rez Dog Rescue
Timeframe needed to find a home:  Not urgent but sooner the better so he can start living in his forever home.
Where you got this dog and how long have you had it:  Tanner was turned over to Rez Dog Rescue in August 2015 because the family was struggling with his ME.  They tried for a year but it just got too much for them.  His brother who also has ME is in the same foster home.
Medical information (spay/neuter, microchipped, other health conditions):
Neutered
Up to date on all shots
Where and how ME was diagnosed
            Animal hospital (give name if known): Animal Care Center, Hardin, MT
            X-rays or barium swallow:  X-ray
Food brands and consistency fed (meatballs, milkshake, pureed, etc):
Fed soaked Kirkland brand (Costco) puppy food
Add mashed potatoes, peanut butter or yogurt and coconut to meals
NOTE: For example, add yogurt to breakfast, mashed potatoes to dinner, and peanut
butter to his snack.
Use yogurt melts and Gerber puffs or frozen yogurt treats for treats
Fed how many times a day:
Fed 2 full meals a day
Given one "snack" closer to bedtime
What position and timeframe is used:
Uses a bailey chair
Sits for about 30 minutes afterwards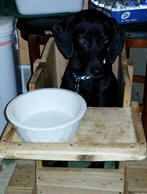 Meds currently taken: None at this time
NOTE: Tried metoclopramide in Oct. 2015 but I feel he got more aggressive with it.
Hydration method and consistency (Knox Blox, Thick It, SubQ, etc):
Usually add water (½ cup or so depending on how active he's been) to his meals
Tries to drink from water bowl when he's been running around and active and it usually
comes back up, unless he sits in his chair for some time
Items that will go to new owner (Pro Collar, chair, bed, health records, etc):
Homemade Bailey chair
Neck hug
Exercise preferred (if any) and level (high, moderate, low):
Does have a lot of energy as he's still young
Loves to run around and bark at the other dogs
Loves to play but can play rough
Miscellaneous:
Unsure how he will act with new people (barks at new people) and new situation
Hasn't been around children much
Will chase cats if they run – it's a game to him
Gets along with most other dogs
NOTE: When he was on Metoclopramide, he seemed to be more in the other dogs'
faces barking and trying to stir things up. He didn't do that very much before. 
Isn't a fan of small puppies if they get in his too close to his face
Will walk on a leash BUT isn't fully trained and is a little unsure of it
Have used a head halter to walk him and he isn't a fan but haven't consistently worked
with him using it
Housebroken and uses a doggy door – not sure if he'd tell someone he needs to go out
Crate trained, but prefers to sleep on the couch or in the bed with his human.
Uses neck hug at night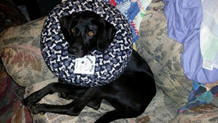 Additional notes (any other pertinent information that will help you decide if you might be safe, loving his forever home):
Tanner really is a sweet boy that just needs his forever home.  He needs a fenced yard where he can run and play and be happy.