This is VIKY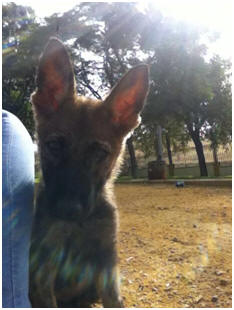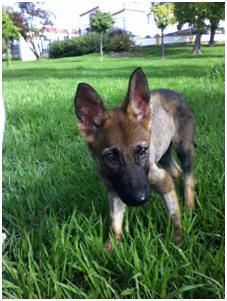 Viky is a precious little GSD who lives in Spain next to an American Air Base. She doesn't have an owner because her owner wanted to put her to sleep due to her ME. Lourdes, who is helping this sweet girl, is a veterinary nurse and they have her in the veterinary clinic (Lourdes was able to take her home a few days but cannot do so anymore due to her mom.
Viky was next to being euthanized, but Lourdes asked the veterinarian for another option. That DVM called other veterinary friends and Viky had surgery two weeks ago in Málaga. They don't know if the surgery will works or not, but they don't mind because she deserve to live a happy life in a home with people who loves her.
These wonder veterinarians have had her about 1 month and due to their location are able to get her anywhere she finds the best home. This means, Viky can get to other countries including the US, so consider opening your home to this adorable baby GSD.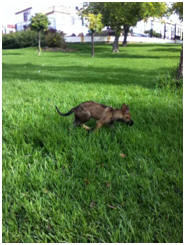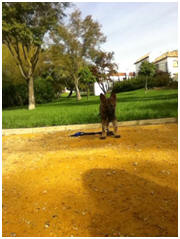 Current age: 3 months old
Current weight: 11 lbs
Dogs Current Status: With DVM clinic       
Location: Spain (Morón de la Frontera)
Contact Persons Name & Location: Lourdes Martinez / Spain (Morón de la Frontera)
Contact info: loutinezescobar@hotmail.com
Timeframe needed to find a home: ASAP
Medical information (spay/neuter, chipped, other health conditions if any, etc):
Up-to-date on vaccinations
Has microchip
Where and how did we get this dog: Her owner wanted to put her to sleep due to the ME; Was next to euthanasia but I asked the veterinarian for another option and he was very good; he called another veterinary friend and she had a surgery two weeks ago in Málaga…don't know if the surgery will works or not
Where and how was ME diagnosed:
Animal hospital (give name if known): Cruz Verde Veterinary Clinic
X-rays or barium swallow: Barium and X-rays
Food brands and consistency (meatballs, milkshake, pureed, etc):
Fed how many times per day in what position and timeframe:
Eats 4 times a day
Fed in vertical position
Miscellaneous:
Has very good personality
Relaxed but loves to play
Loves people
Loves other dogs
NOTES (any other pertinent information that will help you decide if you might be the safe, loving forever home):
"I think Viky needs a home because she loves people and she is long time alone and I think she is going to improving quickly if she has a home because I can't dedicate too much time with her."