Published on the
mspca angell website

Kaiser's Story
by Laurie DePina and ME GSD Kaiser


CANINE MEGAESOPHAGUS: KAISER'S STORY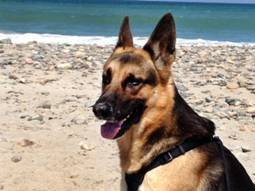 Kaiser enjoys a day at the beach


KAISER'S STORY
"After we adopted Kaiser
in 2008, we noticed that his food would come back up soon after he finished
eating. Many vets and hours of research later, we had a confirmed diagnosis of
Canine Megaesophagus (ME). Kaiser wasn't throwing up his food, he was
regurgitating; his food never made it to his stomach at all. 
In December of 2011, we
met Dr.
Shawn Kearns at
Angell Animal Medical Center. Dr. Kearns helped us understand ME and offered
treatment advice that we hadn't heard before.  We chose her to become Kaiser's
Internal Medicine Specialist, and we are so glad that we did!
<![if !vml]>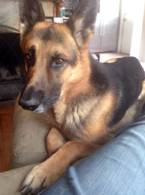 Just look at this handsome face! 


In May of 2012, Kaiser was acting lethargic. We rushed him to a local vet, who
recommended getting him to Angell's ER as quickly as possible. An X-ray showed a
terrible case of aspiration pneumonia (AP) and a foreign object lodged in his
esophagus. Dr. Kearns was scheduled to perform the surgery, but since she was
familiar with his ME, she recommended waiting until the following day to see if
the foreign body passed. It did! We did not have to put him through the risk of
surgery. Though he didn't need surgery, Kaiser was admitted to the hospital for
his AP and spent 4 days at Angell, making a complete recovery. The staff at
Angell saved Kaiser's life, and we are forever grateful. We continue to see Dr.
Kearns and the staff. Their care and treatment of our dogs has been fantastic,
and they are helping us keep them happy and healthy for a long, long time!" –
Laurie Delpina


MORE ON MEGAESOPHAGUS
Megaesophagus (ME) can be described as having a "floppy" esophagus. The
esophagus, a tube which connects the mouth to the stomach, is responsible for
moving food to the stomach using involuntary wave-like contractions (just like
in humans). When a dog has ME, his esophagus loses muscle tone, becomes
enlarged, and develops pockets where the food becomes trapped. The food never
makes it to the stomach. This can cause malnutrition and regurgitation of vast
amounts of undigested materials.
Regurgitated food is undigested and often still looks much like it did before
the dog ate it. Aside from the appearance of undigested food, regurgitation is
different from vomiting in that the dog does not heave like he does when
vomiting; there is no effort involved, it simply comes back up.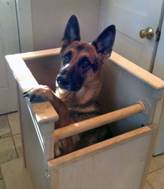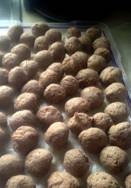 In order to keep the dog from regurgitating, ME parents feed their pups upright,
allowing gravity to do the work of the esophagus. Often, they will use what is
known as a Bailey Chair, essentially a dog high chair, though one is not
necessary as long as the dog is being kept fully vertical (top
right: Kaiser in his Bailey Chair). Food
is often fed in a slurry form, like oatmeal or a milk shake, or in the form of
small meatballs(bottom
right: Kaiser's homemade meatballs), swallowed
whole. Water intake is difficult for some dogs, so that must also be managed
with thickening products, or incorporated into the food. Trial and error is the
name of the game when it comes to management of an ME dog; what works for one
may not work for another.  
There is no cure for Canine Megaesophagus. For some dogs, ME is idiopathic,
occurring for no apparent reason.  Other times, it can be caused by an
underlying condition, likeMyasthenia
Gravis or
Persistent Right Aortic Arch, which, when treated, can lead the ME to resolve,
or keep from worsening, but often it is a condition that must be managed
throughout the dog's life.  
The biggest risk that an ME dog faces is aspiration pneumonia (AP).  It is very
likely that a dog with ME will inhale some of the food or water that he is
regurgitating.  This causes foreign matter to enter the lungs and cause
infections.  Often, AP is what takes the life of an ME dog.  X-rays confirm a
diagnosis, and a round or two of antibiotics is necessary.
There are many resources available to those whose dogs have been diagnosed with
ME. Because ME is not well known, those who have experienced ME firsthand help
to teach and support others.  You can find more information about Megaesophagus
by visiting The Canine Megaesophagus Support Group and The Upright
 Published in The Virginia Maryland Dog Summer 2014 magazine
The Virginia-Maryland Dog is provided as a quarterly print magazine, as well as
an extensively designed website www.thevirginia-marylanddog.com and pet
directory providing readers and viewers with a source to obtain a wide variety
of information relative to their canine companions.

Sitting Up and
Living Longer
by Cathy Bennett
Kate Singleton
and ME Goldendoodles Willie and Stetson


http://issuu.com/thevirginiadog/docs/vamd_dog_sum14_web/14?e=2964881%2F8167089